Major Shameta Jones-Harrell
Major Shameta Jones-Harrell
Brookhaven, GA Police Department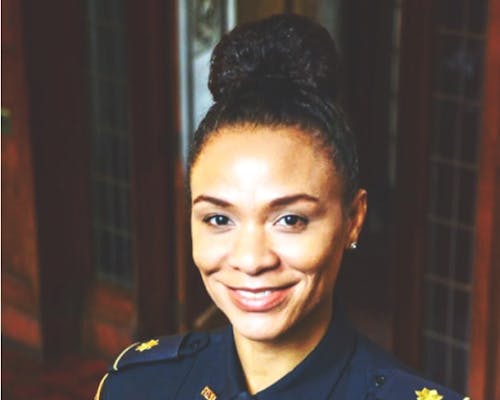 Major Shameta Jones-Harrell is the commander of the Support Services Division. She currently manages records, department training, community policing, courtroom security, and the traffic division.  Major Jones-Harrell joined the Brookhaven Police Department in July 2013, assigned to the Uniform Patrol Division as a Sergeant. Major Jones-Harrell has served as a Lieutenant in the Criminal Investigations Division and as a Lieutenant shift commander in the Uniform Patrol Division prior to her promotion to Major.

Before joining the Brookhaven Police Department, Major Jones-Harrell launched her career in law enforcement when she was selected by a Georgia federally funded program called the Police Corps. Upon completion of the program, she joined the College Park Police Department, where she served for 13 years. Initially serving as a police officer in the Uniform Patrol Division, Jones-Harrell advanced her career by becoming a member of the SWAT team and receiving her certification as a Field Training Officer to train inexperienced officers how to serve and protect the community. Jones-Harrell was later assigned to the Criminal Investigations Division as a detective, specializing in sexual assaults, crimes against children, and domestic violence. She was then promoted to Sergeant and carried out many supervisory duties in the Uniform Patrol Division.

Major Jones-Harrell attained her bachelor's degree in Criminal Justice at Jacksonville State University. She is a loving mother with two amazing children.