Infrastructure Investment and Jobs Act (IIJA) Implementation Resources
Infrastructure Investment and Jobs Act (IIJA) Implementation Resources
The Infrastructure Investment and Jobs Act (IIJA), aka Bipartisan Infrastructure Law (BIL), was signed into law by President Biden on November 15, 2021. The law authorizes $1.2 trillion for transportation and infrastructure spending with $550 billion of that figure going toward "new" investments and programs. Funding from the IIJA is expansive in its reach, addressing energy and power infrastructure, access to broadband internet, water infrastructure, and more. Some of the new programs funded by the bill could provide the resources needed to address a variety of infrastructure needs at the local level.
The GFOA Federal Liaison Center will monitor program implementation and update resources as needed in the sections below. PLEASE NOTE: The new programs are generally still at various stages of agency development; we will strive to post updates when available.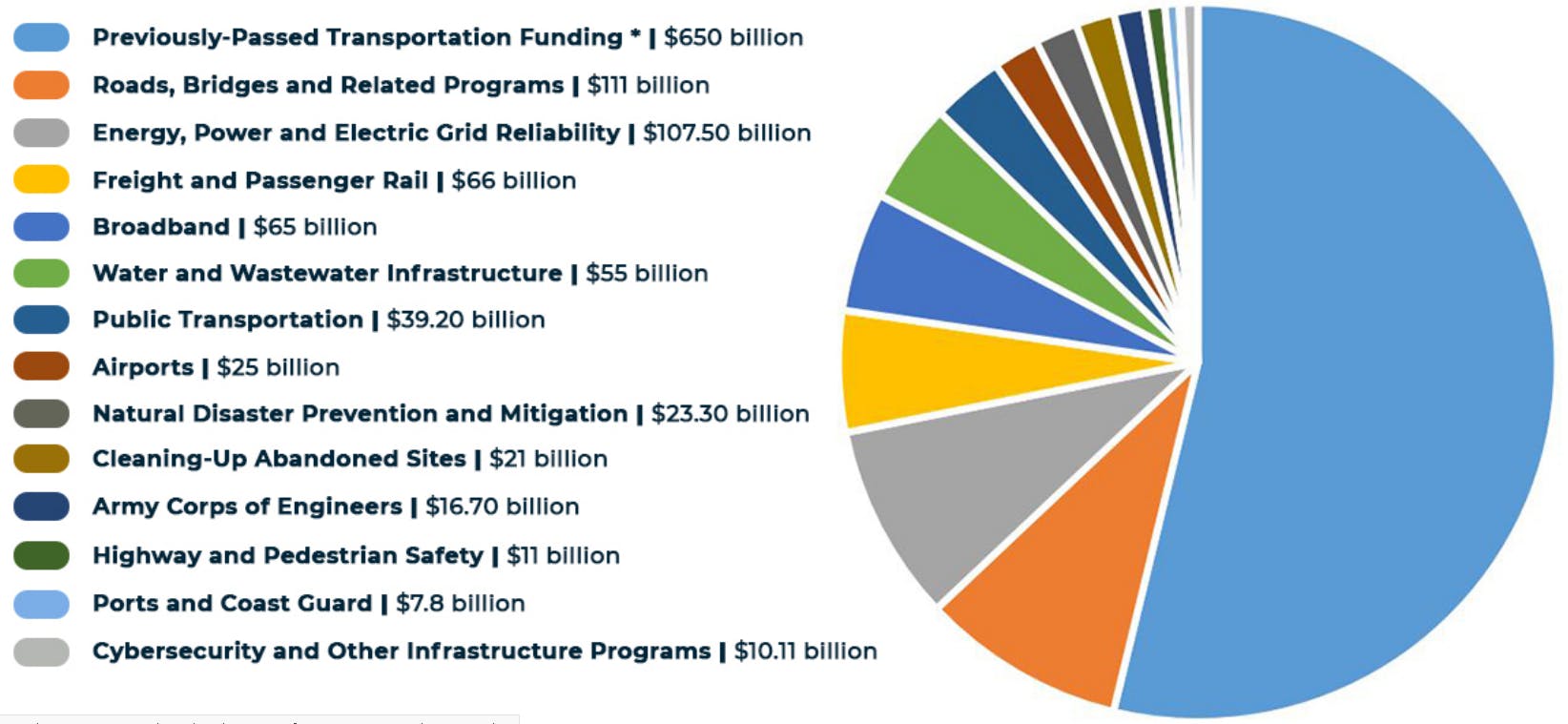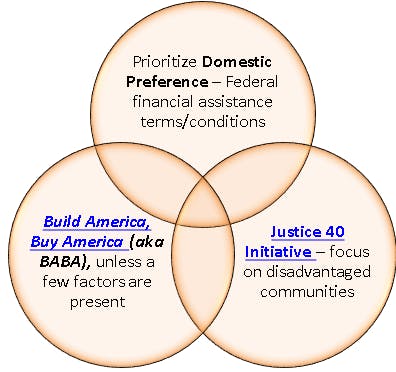 Resources from the White House
Points to Consider in Preparation of Funding/Program Rollout
Although this is not an exhaustive list, here is a sample of various considerations local governments can think about as IIJA implementation gets underway.
Coordinate across departments internally and with metropolitan planning organizations (as appropriate)
Prioritize your community's capital needs and develop a project pipeline
Review the IIJA Guidebook to identify potential funding streams to focus on
Become familiar with your state's broadband agency and work with them to ensure your local community or region's needs are appropriately mapped and inventoried
Establish relationships with the regional offices for the federal agencies that are key to addressing your community's needs as they can help direct you to resources and provided technical assistance
The page aims to provide a sampling of the various programs/funding available under the law that may be of interest to states and local governments of all sizes. Additionally, we have created a separate Notice of Funding Opportunity (NOFO) tracker based on some of the programs highlighted below.
NOFOs are the formally issued announcement from a federal agency of the availability of federal or federal pass-through funding via one of its financial assistance programs.

Click HERE for GFOA's IIJA NOFO Tracker.
Buy America, Build America Act (BABA)
The Buy America, Build America Act is part of the Infrastructure and Investment Jobs Act (IIJA). The act aims to prioritize and incentivize the usage of goods, products, materials, and services made or provided for in the United States. Specifically for infrastructure, the Act will provide Federal financial assistance for any program that has infrastructure, even if infrastructure is not the primary purpose of the program. However, it must adhere to the following requirements:
All iron and steel used in infrastructure projects must be made in the United States throughout the entirety of the manufacturing process.
All manufactured products must be produced in the United States. All components of the manufactured product must be produced in the United States and be greater than 55 percent of the total cost of all components of the manufactured product.
All construction materials must be made in the United States throughout the entirety of the manufacturing process.
Link to initial guidance on the implementation of Buy America, Build America Act (BABA).
The Justice40 Initiative has made it a priority of the federal government t commit at least 40% of all federal funds from federal investments to disadvantaged communities that are marginalized, underserved, and overburdened with pollution. The categories of investment are: climate change, clean energy and energy efficiency, clean transit, affordable and sustainable housing, training and workforce development, remediation and reduction of legacy pollution, and the development of critical clean water and wastewater infrastructure. Covered federal investments include any grant or procurement spending, financing, staffing costs, direct spending, or benefits to individuals for a covered program in a Justice40 program.
The Climate and Economic Justice Screening Tool is a geospatial mapping tool to identify disadvantaged communities across all 50 states, the District of Columbia, and the U.S. territories that are marginalized, underserved, and overburdened by pollution. This tool can help promote the Justice40 program as it can help identify disadvantaged communities.
For more information on the Justice40 Initiative, click on the link here.
IIJA Funding for Roads, Bridges, and Railways
The Department of Transportation (USDOT) released state-by-state fact sheets to highlight how the funding could benefit based on the amount the state could expect to receive. You can click HERE to find your state's fact sheet.
Below are additional transportation-related programs that may be of interest for local governments.
IIJA Funding for Public Transportation
The IIJA invests $91.2 billion to repair and modernize transit. The legislation supports expanded public transportation choices nationwide, replacing thousands of deficient transit vehicles, including buses, with clean, zero emission vehicles, and improving accessibility for the elderly and people with disabilities.
Link to Public Transportation Agency Safety Plan FAQs for New Bipartisan Infrastructure Law Requirements.
IIJA Funding for Airports and Federal Aviation Administration Facilities
The IIJA invests $25 billion to address repair and maintenance needs, reduce congestion and emissions, and modernize our National Aerospace System.
IIJA Funding for Ports and Waterways
The IIJA invests over $16.7 billion to improve infrastructure at coastal ports, inland ports and waterways, and land ports of entry along our border.
IIJA Funding for Electric Vehicles, Buses, and Ferries
The IIJA includes a $7.5 billion investment in electric vehicle charging to help build out a national network of 500,000 electric vehicle chargers. In addition, there are investments from the IIJA for specific vehicles to transition to electric school buses, transit buses, and even passenger ferries to reduce emissions for their riders, including children and low-income families that bear the greatest burdens of pollution while trying to meet their mobility needs.
IIJA Funding for Broadband Deployment and Access
The IIJA included a $65 billion investment to help close the digital divide and ensure access for all Americans to reliable, high speed, and affordable broadband. The additional funding builds off of investments in previous laws, including the American Rescue Plan (ARPA) and the Consolidated Appropriations Act of 2021. As a result of the additional funding, the National Telecommunications and Information Administration (NTIA) will implement several new programs. Click HERE for the Internet for All initiative that includes additional information on the new grant programs discussed below.
IIJA Funding for Water Infrastructure
The IIJA invests more than $50 billion through the Environmental Protection Agency's (EPA) drinking water, wastewater, and stormwater infrastructure programs.
IIJA Funding for Resiliency
The IIJA makes our communities safer and our infrastructure more resilient to the impacts of climate change and cyber-attacks, with an investment of more than $50 billion to protect against droughts, heat, floods and wildfires, in addition to major investments in weatherization. The legislation is the largest investment in the resilience of physical and natural systems in American history.