Catherine Tuck Parrish
Vice President, Raftelis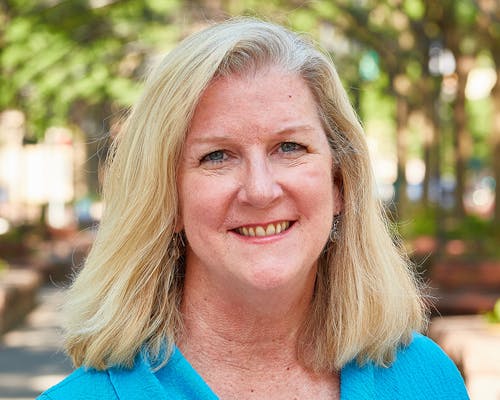 Catherine has 30 years of management experience working for local governments of all sizes, nonprofit organizations, and associations. She leads the firm's executive search practice and has conducted over 160 searches for manager/administrator; police chief; fire chief; directors of public works, planning, economic development, finance, human resources, and human services; and many other key positions in local governments across the country.
In addition to executive recruitment, she has facilitated numerous governing body workshops, staff retreats, and strategic planning sessions. Her work as a consultant includes project management and contributions to several local government projects such as process improvement studies, departmental assessments, planning and permitting process reviews, and policy development.
Catherine's most recent local government experience was as deputy city manager in Rockville, Maryland, where she oversaw parks and recreation, human resources, information technology, finance, neighborhood resources (citizen engagement), communications, customer service, and intergovernmental functions. She also served as acting city manager in Rockville for nearly a year. Before joining the City of Rockville, Catherine served as assistant to the county executive in Fairfax County, Virginia, working on change management issues, including a new pay system, employee surveys, implementation plans, and internal communication improvements. Catherine also served as an ethics advisor at the International City/County Management Association (ICMA), counseling elected officials and citizen groups regarding employment agreements, form of government issues, and recruitment. Additionally, she worked for the City of Denton, Texas.
She chaired the ICMA's Acting Manager Task Force, which produced a handbook for interim managers. She also led the Maryland City/County Management Association (MCCMA) as president and vice president. She served as president, vice president, and secretary of the Metropolitan Association of Local Government Assistants in the Washington, D.C. metro area. Catherine has spoken at national and state conferences on a variety of topics, including recruitment trends, civility, effective councils, ethics, forms of government, human resources, long-term financial planning, budget strategies, developing high performing organizations, and leadership. She has also spoken at the National League of Cities' Leadership Training Institute on recruiting and evaluating the CEO. She is a certified instructor of the Myers-Briggs Type Indicator instrument.