Alliance for Excellence in School Budgeting Fall Meeting
Alliance for Excellence in School Budgeting Fall Meeting
Join your education colleagues to discuss school budgeting, December 1-2, in Chicago, Illinois. This event is worth 12 CPE credits.
Maximizing ARP/ESSER funding is a big topic among school districts. How are you spending the money? What challenges do you face? That topic and more will be covered at this year's Alliance event. Don't miss this opportunity to learn and collaborate to create smarter school spending!
Book hotel now to take advantage of discounted rate extended until November 14.
Homework Before the Meeting
---
About the Alliance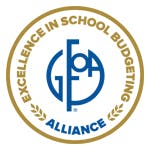 The Alliance for Excellence in School Budgeting is a network of school districts formed by GFOA from across the nation working to implement GFOA's Best Practices in School Budgeting. The Best Practices in School Budgeting is a framework to enhance a school district's budget and planning process through better alignment of strategic goals/student outcomes and resource allocation.