Liana Berberidou-Kallivoka, PhD, PE, LEED Fellow
Liana Berberidou-Kallivoka, PhD, PE, LEED Fellow
Assistant Director, Parks and Recreation Department, City of Austin, Texas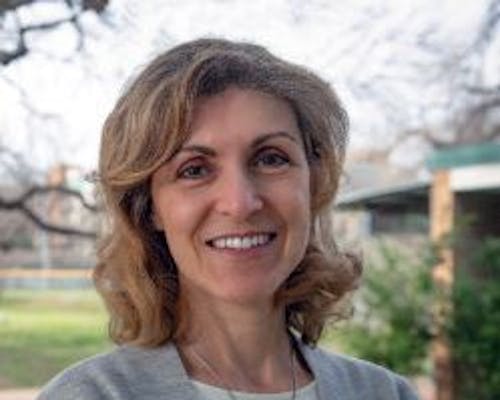 Liana Berberidou-Kallivoka, PhD, PE, currently serves as an Assistant Director at the Austin Parks and Recreation Department, the trusted steward of the City of Austin's public lands. Prior to this position, Liana was the manager of the Commercial Division at Austin Energy Green Building, an internationally recognized program focused on promoting sustainable development and growth at Austin's community-owned electric utility.
Liana has more than 25 years of technical and management experience, and possesses significant experience and expertise in developing and implementing innovative initiatives and partnerships that benefit the community. Her leadership skills include strategic planning, performance and resource management, team building and development, business optimization, policy development, community outreach and stakeholder relations, partnerships, and change management.
Throughout her career, Liana's focus has been on applying her experience and expertise in sustainable practices, smart growth, efficient project and program delivery, performance optimization and operational improvements. Consequently, she has earned recognition for her contributions to the development and implementation of initiatives and policies that support City of Austin strategic goals, and for her efforts toward the transformation of the building industry. She has lectured nationally, and has been a presenter in national and international conferences.
At the national level, and for almost twenty years, Liana has been extensively involved in the development of the LEED rating systems and metrics, serving as Subject Matter Expert for the U.S. Green Building Council (USGBC), and leading the work of national committees. At the local level, Liana has taken on leadership positions on the USGBC Texas Chapter, serving on the Chapter's Board of Directors (2012 – 2014), and the Advisory Council (2015 – present).
Liana is a licensed Professional Engineer in the State of Texas, and a Registered Architect in the European Union; she holds a PhD and MS in Architecture (Building Performance & Diagnostics) from Carnegie Mellon University, and a Diploma (B.Arch./BS) in Architectural Engineering from the National Technical University of Athens, Greece. Liana is a Leadership Austin BCE 2013 alumna.
In 2014, Liana was named LEED Fellow by the U.S. Green Building Council in recognition of her career-long achievements and contributions to green building and sustainability.