Spencer Cronk
City Manager, City of Austin, Texas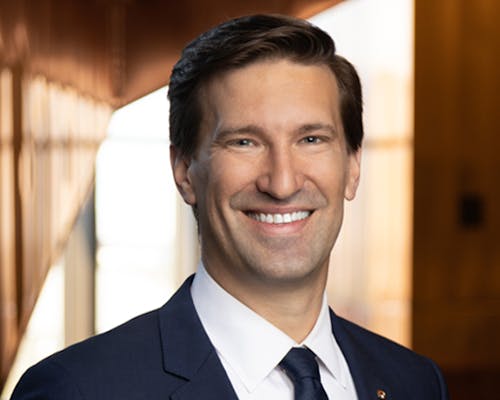 Spencer Cronk is the City Manager for Austin, Texas, where he is responsible for carrying out and effectively administrating the policy objectives set by the City Council. In this council-manager form of government, the city manager is directly appointed by the City Council and is responsible for the day-to-day operations of an organization of more than 14,000 employees and a budget of $4 billion. City operations range from animal services to zoning to the electric and water utilities. Austin-Bergstrom International Airport is also a part of City of Austin operations.
Before joining the City of Austin, Spencer Cronk was Minneapolis City Coordinator (City Administrator). He directed the management of Minneapolis city government by assisting the Mayor and City Council in defining City policy and establishing priorities, mobilizing department heads and staff to implement the Mayor and Council's priorities, and working to strengthen the management and administrative systems of the City.
Mr. Cronk previously served as Commissioner of the Minnesota Department of Administration, a role he was appointed to by Governor Mark Dayton in 2011. As Commissioner, Mr. Cronk led the state's real property, purchasing, fleet, demographic analysis and risk management divisions responsible for more than $2 billion in State purchasing and the historic renovatiCecon of the Minnesota State Capitol. Additionally, Mr. Cronk also served as chair of the Minnesota Public Data Governance Advisory Committee, and as a member of the Environmental Quality Board and the Minnesota Indian Affairs Council.
Mr. Cronk received his bachelor's degree with honors from the University of Wisconsin–Madison. He is a graduate of Harvard University's Senior Executives in State and Local Government Program and was a Public Affairs Fellow with the Coro New York Leadership Center.