Sign up for COA Program Application Status Updates
Awards
Sign up for COA Program Application Status Updates
If your organization isn't already registered in GFOA's Awards Management System (AMS) follow the instructions below for logging in for the first time. If your organization is already registered, skip to the Sign up for COA program application status updates section below to be notified when your application moves through the application and review process.
Logging in for the first time
To access the Awards Management System for the first time to submit an application or request an extension, governments will need to log in to the COA program registration form in GFOA's e-store to register.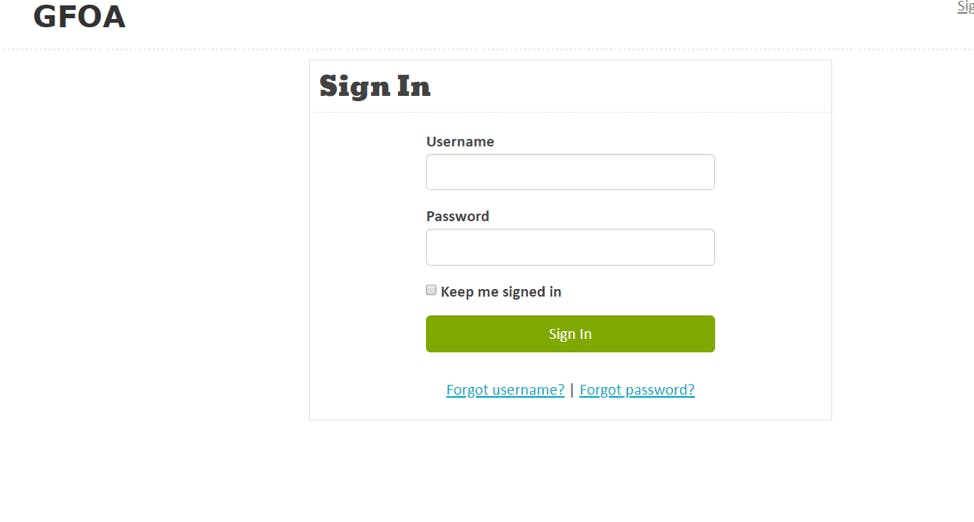 You will then be presented with a screen to verify your registration information. If any information needs to be updated, click the link to contact member services to update it. If all is correct, click the button that says "Submit to the CAFR Award Review System" at the bottom of the screen. This will submit your registration.
After registering, you will receive an email with a link to Laserfiche Forms https://lf.gfoa.org/Forms and your username and a temporary password (which you will be instructed to reset the first time you log in).
Sign up for Application status updates
1. Log in to Laserfiche Forms at https://lf.gfoa.org/Forms
2. Enter your username (which is your entity's GFOA ID) and the password you created when registering in the AMS.
3. Select "Start Process" at the top of the screen in the blue band.

4. Click on the green "Start" button to the right of "Check CAFR Status"

5. Enter the fiscal year for your comprehensive annual financial report and your email address. You will receive status updates at this email address as your application moves through the process.